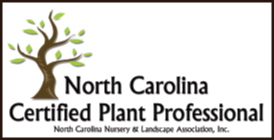 Previously I wrote about one of our professional organization memberships: the National Concrete Masonry Association (NCMA), today I will embellish more into our affiliations by delving into our certification with the NC Plant Professionals.
Our NC Certified Plant Profession Certification provides our customers a way to identify and recognize qualified nursery professionals.  I and my partner have worked on our continuing education to expand our knowledge and skillsets all the while bringing better, more capable services to our customers and their projects.
Membership into the NC Certified Plant Professional requires hours of study and classroom time with an exam on identifying over 100 live plants native to North Carolina.  Although it was time consuming, it was also interesting and fun.  As a degreed graduate from NCSU horticulture division, this certification was one I was very eager to obtain.
What does this mean to our customers?  It enables us to identify native NC plants and evaluate what is the best scenario for them to thrive and flourish.  It also provides us with the best solutions regarding pest control, nutrition and overall health of the plant.  Plants can quickly become an expensive addition to your landscape project; our education ensures the best opportunity for your vegetation to flourish for its indicated life span.
We spend a lot of time, energy and money on educating ourselves, we consider ourselves to be the best landscapers in Mooresville and Lake Norman.  That statement sets the bar very high, because there are numerous qualified landscapers in our area and to be the best means we must continue our education.  We believe in our work and our abilities to provide a good experience when we are hired.  Yes, there are other good landscape service providers, that's why we strive to provide the best experience possible.  Becoming a NC Certified Plant Professional is another example of our dedication to our profession.
Adam Taylor
704-213-9974
Taylor Lawn Care, Inc.