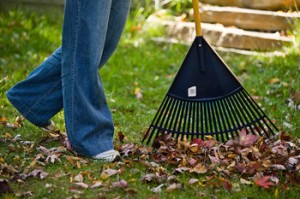 Now that we are in the midst of fall, I think it's a good idea to provide a few lawn care tips.  Mooresville and the Lake Norman area is wonderful, especially during the Fall as our weather is outstanding most of the time.  Here is part 1 of a 2 part series on Fall Lawn Care.
Get rid of the leaves!  As my previous post emphasized that numerous ways to remove the leaves, I will assume you have already taken that action first.  If you choose to mulch the leaves, they will provide valuable nutrients and organic matter to your lawn, but too many leaves could be another issue of smothering your grass.
Mowing the last time should be planned rather than simply done one Saturday.  Mow the grass at 3" will enable your grass to utilize the natural resources of your lawn.  If you normally mow at 4", consider lowering the blade an inch on this last mow, taller grass will lay over more easily and potential matting may occur.
Watering the lawn for the fall season will decrease dramatically, with the cooler temperatures and potential rain downpours.  But never take the rain for granted, regardless of the season or temperature (especially here in Mooresville) your lawn is still alive and needs water.  Reduce your irrigation to half the normal summer rate to ensure your lawn has the ample water it needs this fall.
These are the first three fall lawn care tips, check back often as I will post the last tips in my next blog.  As always, we are here to help and will happily provide professional lawn care for your residence or commercial property in and around the Lake Norman areas.
Adam Taylor
704-213-9974
Taylor Lawn Care, Inc.