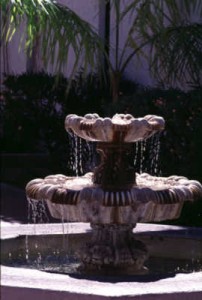 With almost everything in place for the outdoor kitchen, our next focal point was the water feature.  The homeowners and I discussed numerous aspects and layouts for the water feature:
Maintenance
Appeal
Functionality
Wildlife & Vegetation
Size
What we decided on was a manufactured rock wall in the design of a small waterfall, we incorporated a variety of aquatic vegetation that is easy to maintain and/or remove.  Another favorite feature was the ability to add color with plants and flowers quickly and easily as the seasons change and lastly was the wildlife.  We utilized several varieties of fish that add color, life and enhance the appeal of the feature.
The base was completed during the outdoor kitchen phase which enabled us to move rather quickly on this portion of their renovation.  The waterfall was erected in 1 day along with all the plumbing to make it aquatic.  Second day we tested all plumbing and completed the stonework with a small wall around the base, enveloping the basin for the wildlife.  The last step is to "Trim-Out" around the water feature, but all that is completed during the last phase.
The next step is the in-ground swimming pool.  The majority of the site development was completed initially, so we will move quickly on this as well.  Check back soon with another update on this complete landscape renovation project in Mooresville.
Adam Taylor
704-213-9974
Taylor Lawn Care, Inc.