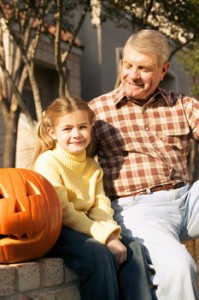 Happy Halloween!
This Friday, kids will be enjoying their second favorite holiday, Halloween (nothing beats Christmas).  With all the commotion and exuberance, and the lack of sunlight, anything could happen.  Today we will talk about our outdoor lighting services and how they can help your home in numerous ways.
I use Halloween, simply because it's a good example of how effective outdoor lighting can be.  Another important factor is security.  There have been numerous reports and studies on criminals and how to thwart their intrusions or be "less attractive" to them.  A well-lit home is one of the more recommended deterrents for criminal activity.
Most crimes occur at night and in low-light situations, thieves utilize the cover of darkness to assist in their dastardly deeds and outdoor lighting is a proactive alternative to avoid stressful situations caused by "less moral" individuals.
Outdoor lighting is also a beautiful addition to a home, soft accent lights add beauty and allure to current aspects of the home often overlooked during daylight hours.  The cost to operate the lights has decreased measurably with the introduction of better quality, low voltage LED lights.  Their life span has been increased dramatically as well.
Another positive with outdoor lighting is homeowner's insurance deductions.  Some homeowners' policies have incentives for security upgrades and in many cases, outdoor lighting qualifies!
If you have been thinking about getting a quote on outdoor lighting for your Mooresville or Lake Norman home, give me a call.  Always no pressure and no hassle with Taylor Lawn Care!
Daylight Savings Time is November 2nd set your clocks BACK an hour.
Adam Taylor
704-213-9974
Taylor Lawn Care, Inc.