NC Certified Plant Professional: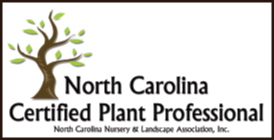 The NC Certified Plant Profession Certification is to provide the public with a way to identify qualified nursery professionals.  It is a written and plant identification test with 125 live plants to identify.
Along with this certification is experience and that's something that really allows us to assure you customer satisfaction.  Our experience and skills have steadily increased over the past few years and our team can professionally and accurately handle any project needed.